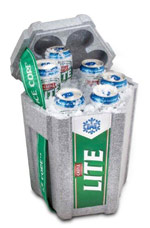 11 Sep 2014

Castle Lite launches its new 12-pack Ice Core, a portable multi-pack innovation

In keeping with the beer's 'extra cold' branding image, this multi-pack innovation has a central core of ice which is surrounded with an optimum arrangement of 12 cans, creating the maximum surface area contact to ensure thermodynamic conduction and a superior cooling effect.

It is made of an advanced and effective insulation material, Neopor, a graphite-infused polystyrene that acts as an excellent heat reflector and is 20% more thermally efficient than regular polystyrene; ensuring that the Castle Lite cans will remain extra cold for up to 48 hours.

Designed with convenience, durability and portability in mind, the Ice Core has a handle and can be re-used for several occasions.

"Consumers are known to be on the move during the summer season, buying their beer on-the-go to take to a park, braai, or party. While our multipacks are perfect to grab and go, we recognised an opportunity to do more," explains Kuben Nair, Castle Lite's marketing manager for Strategy and Innovation. "Traditionally, consumers open up a pack of beers, throw them into a big cooler box, top it up with ice and lug this with them. So we asked ourselves, how can we keep Castle Lite extra cold for extra-long? Pack Innovation is a key driver of Castle Lite's growth and we strive to offer our consumers exciting solutions that lock in extra cold refreshment for as long as possible, whilst incorporating cutting edge innovation," continues Nair.

"The revolutionary Castle Lite Ice Core portable multi-pack, with its distinctive and progressive design, successfully amalgamates and reinforces the brand intrinsic of innovation and exclusivity."

Castle Lite's new Ice Core 12-pack will be available in all major liquor outlets from 1st September, and Pick n Pay and Shoprite/Checkers stores from 1st November, for a limited period only (September – December 2014) at only R133.95.

The brand was voted No. 1 in SA's Best Beer Brand category in the recent 2014 Sunday Times Top Brands Survey.