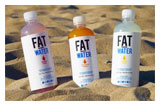 Bulletproof Coffee founder talks FATwater
His move into the RTD beverage segment has been helped by the announcement of a $9-million investment in the company from venture capital firm Trinity Ventures. The capital raise will also allow Asprey to expand Bulletproof beyond its e-commerce base, with plans to open up brick-and-mortar cafe locations.
BevNET interviewed Asprey recently to discuss the Trinity Ventures investment, FATwater's launch and the commercialisation of Bulletproof.
Q: How did the investment from Trinity Ventures come about?
Dave Asprey: I'm in the habit of thinking really big. I hang out with [personal spaceflight pioneer] Peter Diamandis who really trains you to do that. But I was thinking what if we wanted to take Bulletproof beyond the two million people a month we reach with our website? What if wanted to physically reach two million people a month?
I knew the partners at Trinity from being an entrepreneur in residence and so I called them and told them I was raising an angel round and wanted to see if they were interested in contributing.
Bulletproof is an unusual company in that we're involved in really anything that increases human performance – coffee shops, nootropics, supplements. That breaks the mould of what's typically venture fundable in Silicon Valley, but to my surprise they told me they'd looked at our numbers and our customer retention rate and that this was to be a fund investment, not a personal one. So we've raised $9-million from Trinity Ventures which is a way for us to go really big.
The taste: When TIME's health team tried the berry and lemon flavours of FATwater, which are sweetened with xylitol, no one could agree on what it tasted like.
One reporter thought it tasted "like lotion"; another thought it tasted like the sweet innards of liquid-filled chewing gum; and another said it tasted like "sweetened room water" — a glass of water that's been sitting out and collects dust or other particulates from the air.
Though you're not supposed to be able to detect the fat, one writer said: "I feel like something's coating my tongue in a not-pleasant way."
Q: Is the launch of an RTD product like FATwater indicative of going "really big"?
DA: It's absolutely a broader market play. You don't need to be on the Bulletproof Diet and can still be afraid of butter to want to drink a 20-calorie beverage that makes you feel good.
Q: What was the impetus behind creating FATwater?
DA: For a long time sugary drinks have been people's choice of beverages. This started with soft drinks and has moved on to fruit juices, which is still just sugar water. The problem is people are figuring out sugar makes you fat. It causes cavities and contributes to obesity and diabetes. So people want a lot less sugar but they want to drink something that has flavour and functional benefits. And diet sodas don't work. So what's left?
Q: Fat?
DA: The right kinds of fat. People are learning the right kinds of fat don't actually make you fat but they do give you a lot of energy.
This is a groundbreaking product. Nothing has been done like this before. We're actually leveraging fat to drive hydration. What we've done with FATwater is we use a special extract of coconut oil called Bulletproof XCT oil – about 15 percent of what's in coconut oil is XCT oil. We extract that and make a nanofusion where we've put tiny droplets of this fat in the water itself. We've added natural flavours and use stevia and a non-GMO xylitol as a sweetener.
So it has a nice sweet, fruity taste, but the important thing is these nanodroplets of fat. These help escort the water into the body more quickly so it's a very hydrating drink and we're making it through a mechanism most people haven't heard about. But it's noticeably effective. You drink it and you want more of it…..
Related reading:
Fat Water Is Now a Thing | TIME
Trackback from your site.