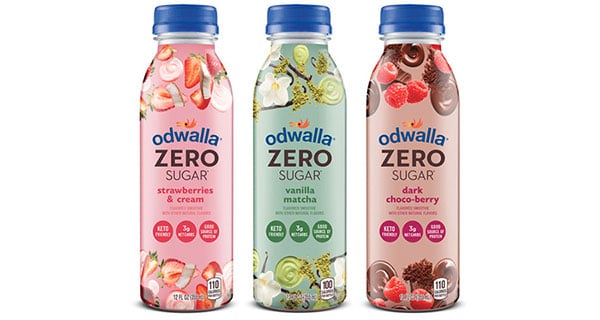 01 Mar 2020

US: Coca-Cola brand Odwalla launches zero-sugar smoothie

Premium bottled smoothie producer, Odwalla, owned by Coca-Cola, has launched a "carb-conscious" zero-sugar, keto-friendly smoothie line.

The on-the-go, protein beverage has three flavours: Dark Choco-Berry, Strawberries & Cream and Vanilla Matcha.

Odwalla Zero Sugar is vegan, kosher and gluten-free, containing 5g of plant protein, 3g of net carbs and 110 calories or less per bottle.

"Odwalla Zero Sugar taps into this emerging and unmet need in the smoothie category," says Lisa Lee, Senior Brand Manager at Odwalla.

"Health-conscious US consumers, especially those following low-carb diets such as keto and paleo, are increasingly looking for foods and beverages with less sugar and with functional benefits, but without sacrificing flavour."
On-trend ingredients
The Minute Maid R&D team was tasked with developing a zero-sugar smoothie using on-trend ingredients like medium-chain triglycerides (MCT) oil and coconut cream – two low-carb sources of energy and protein.
It is touted as one of the first zero-sugar smoothies to hit the market. After a three-month pilot test with two regional retailers, the project took only six months from concept to launch.
"Being able to move quickly is especially important in the smoothie category. Beverage trends come up quickly in this space, and so brands like Odwalla have to keep up. This project is a great example of how we continue to pursue creative, value-added offerings to meet unmet needs," Laura Gorham, Brand Manager at Odwalla adds.
Odwalla is not the only company booming with innovation within this space. US specialty food company, Z Natural Foods, has launched a new Organic Vanilla Cream Vegan Protein blend, also boasting keto-friendly and protein-rich qualities developed explicitly for the sports nutrition sector.
Source: FoodIngredientsFirst.com, Coca-Cola