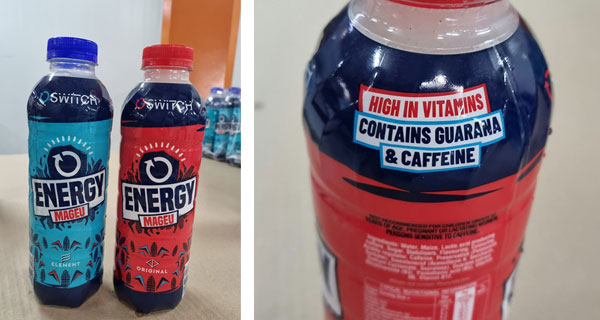 20 Jul 2022

Mageu goes into energy mode

Your editor loves LinkedIn, such a valuable business tool and one where you can pick up lots of fresh newsy foodbev items. Thanks to LinkedIn, we can bring you early news of the launch of Switch Energy Mageu, a first for SA, surely.

I've heard it said that mageu, the traditional fermented maize beverage, is the "Red Bull of Africa", but this new launch takes that a step further, adding typical ingredients to it – caffeine, guarana – to deliver a turbo-charged energy drink that will likely appeal greatly to the modern mass market.

The product has been developed and produced by Denmar Estates for Switch Energy (read more about this fast-track beverage company here), with this info posted by Denmar's marketing director, Grahame Osler, on LinkedIn.

He posts: "Today has been a proud moment and milestone for Prof John Taylor [Pretoria University's cereals expert] and myself as we've managed to take a product concept and bring it to life.
"Switch Energy Mageu is another product innovation which started about a year ago and today we finished packing our first order for Switch Energy Drinks, where we will bring this exciting new product to market under the fast growing and exciting Switch brand!

"Energy Mageu takes sun-ripened golden maize (which itself is full of natural energy), milled into a fine powder and cooked into a smooth consistency, and then we've fortified with vitamins and Switch flavours and energy components of Guarana and Caffeine, to create a delicious grain drink, full of power to sustain you through the day and or night.
"The caffeine content is equivalent to two and a half cups of strong coffee and the calorie content will keep you feeling fuller for longer.
"The product will be launched in two Switch flavours – Original and Element – and it will be packed in a 750ml bottle, in a case of ten.
"We think it's a great product for the hard working South African market looking for that cost effective energy meal to get you through the day."
The product is clearly pasteurised, and according to a trade presenter, is shelf-stable with a six month's shelf life, but should be sold and consumed chilled.
Denmar is an large agri-processing business situated in Slabberts in the Free State, supplying a variety of dairy drinks, cheese, yoghurts and grains. I also recall it being one of the biggest asparagus growers in SA.
See more about Denmar here: http://www.denmarestates.co.za/