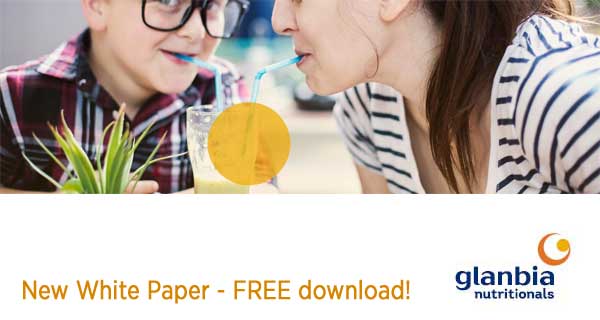 Innovations for today's multiple beverage occasions – WHITE PAPER
Today's consumers want it all from their beverages: health, functionality and enjoyable taste in a convenient format, to suit modern, busy lifestyles. Glanbia Nutritionals offers these insights in meeting these multiple market demands.
The beverage sector is experiencing a sustained and meteoric rise. As beverage consumption continues to grow, the number of innovative new products on the shelves is increasing to cater for these changing needs.
As well as targeting specific demographics, developing beverages for specific drinking occasions has presented an opportunity for manufacturers. Drinking occasions not only represent moments during the day, but also the opportunity to create healthier lifestyles long-term.
Product innovation is no longer solely the formulation of ingredients or catering to individual nutritional, health or texture benefits, but the understanding that functional beverages are capable of making consumer lives easier, while delivering natural, healthy and enjoyable nutrition.
The lines are blurring between beverages and dietary supplements. Functional ingredients are now expected to be all-encompassing; convenient, nutritional solutions that support health, while maintaining the natural aspect.
New platforms are being formulated to suit specific drinking occasions, meaning that products can be more targeted than ever before. This has also been made possible by the number of hybrid beverages on the shelves that combine several concepts in one product – opening up a wealth of opportunity for innovation.
About Glanbia Nutritionals
Glanbia Nutritionals and many other suppliers have recognised the increased need for ingredient solutions and have developed their portfolios accordingly.
Offering a range of functional solutions for beverage applications, Glanbia Nutritionals provides health benefits in palatable formats for optimal taste and texture.
With a unique portfolio spanning bioactives, proteins, grains and seeds, as well as custom nutrient premixes, Glanbia Nutritionals can ensure its customers are at the forefront of innovation.
Thanks to its extensive formulation expertise, Glanbia Nutritionals partners with leading beverage companies to deliver innovative solutions to meet consumers' demands for health, transparency and lifestyle nutrition.
Compiled by Paul O'Mahony, senior product manager, Glanbia Nutritionals, and Dr Dagmar Ortlepp, marketing manager EMEA, Glanbia Nutritionals.
For further reading: Glanbia Nutritionals website
Trackback from your site.