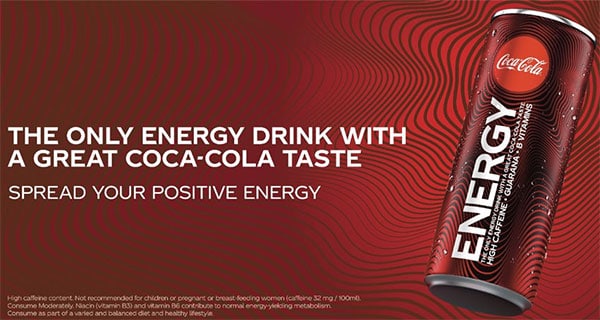 28 Jul 2019

Coke Energy launches in SA

Coca-Cola in South Africa has announced that it is expanding its portfolio with the launch of the soda giant's new energy drink, Coca-Cola Energy.

South Africa is at the helm of the innovation, being the first country on the continent to introduce the new variant into the highest-growing market in the local beverage sector.

The path for Coca-Coca Energy's global rollout was cleared last month when a US arbitration panel ruled the drink did not infringe its 2015 agreement with Monster Energy.

"With a great Coca-Cola taste and feeling that people already know and love, Coca-Cola Energy features caffeine, guarana extracts, B vitamins and no taurine," says the press release.

In SA, Coca-Cola Energy will be available in 300ml packs in all major retailers at a recommended selling price of R14.99.
"Coca-Cola Energy includes ingredients from naturally-derived sources and a delicious and refreshing taste of Coca-Cola," says Stephan Czypionka, marketing director for Coca-Cola Southern & East Africa.
"We kept these two qualities at the heart of how we developed the recipe and are proud to offer it under the Coca-Cola brand, inviting people to try a new and different energy drink that is designed to complement upbeat and busy lives."
Coca-Cola first introduced Coca-Cola Energy in Europe in March 2019. It will launch here with a striking new visual identity that makes it stand out, as well as an engaging marketing campaign.
Primarily designed as a drink for young adults (18-35), it will be promoted in line with Coca-Cola's responsible marketing guidelines with regards to energy drinks. This includes no marketing to those 18 years or under, no sampling in proximity to primary and secondary schools and never promoting mixing with alcohol. 
Coca-Cola Energy, says the company, was developed by listening to adult consumers "who told us they wanted an energy drink that tastes more like Coca-Cola than like traditional energy drinks".
Energy drinks on the rise in SA
Well-to-do' under 45 and a males who love watching television' have been identified as the key SA market demographic drinking a lot of energy drinks, according to a 2017 study conducted by Priority Cost-Effective Lessons for Systems Strengthening' or PRICELESS' a research unit at Wits University.
Lead researcher, Nick Stacey, said the study established that' in the beverage category' energy drinks achieved the highest recent sales growth in South Africa.
"Between 2009 and 2014' the annual volume of sports and energy drinks rose from about 98-million litres to 168-million litres' rising from approximately two to three litres per capita in only five years," he said.
Source: Coca-Cola Co, TimesLive.co.za
Related reading: